The one thing I am sure of for 2018 is you will need to rethink your strategic plan. This new tax law is a game changer.
Now that the GOP tax bill is in the history books, everyone is going to need to spend time early in 2018 figuring out what it means to their business and how it should impact your plans. The headlines the morning following the 51 to 49 US Senate vote were full of corporate promises.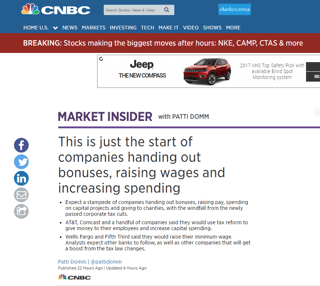 Many large companies were already prepared to rework their plans. Wells Fargo, AT&T, Boeing, and Comcast (to name just a few) committed to raising wages and giving employee bonuses, while others announced investments in charitable giving and infrastructure investments.
Impressive, but I am sure these are just the "low hanging fruit" for the changes they would like to make in their strategic plans.
Early next year, every company and leadership team will need to convene to define a new plan. This new tax plan is a game changer.
Not prepared to evaluate this game-changing reality?
Here are my three tips to get you started.
Review the fundamental financial assumptions of your business model

- this goes beyond just your tax rate. You need to evaluate your cash flow and capital expense assumptions. Your business will now require fewer reserves to pay for its tax obligation, and your capital spending assumptions will also need revising. For capital-intensive operations, this may mean expansion plans can accelerate. At the least, it will change your balance sheet significantly by the end of 24 months.

Benchmark your compensation

. With less of a tax burden, companies will be seeking out growth strategies, when this happens they will be recruiting great new talent to lead these efforts. Don't let your team get cherry picked. Review and ensure your comp plan is highly competitive and identify the highest risk candidates (your best) that could be plucked. Start thinking about how to engage them in career development …maybe with a new role in your expansion plans.

Schedule a strategic planning retreat

to reexamine your plan and update date. Your marketplace is bound to change significantly in the next 12 – 24 months, and you cannot predict all of these changes. You can prepare for changes and make some of your own. Early in 2018, schedule a series of planning meetings where you can bring your team together to mine the insights they have and play out various scenarios. Opportunity favors the prepared. Now is the time to prepare for BIG change.
Download our FREE Webcast and learn how to respond to this game changing new legistation. Get ahead of the curve and prepare to lead 2018 with enhanced strategic focus.
Or contact us and we can discuss how we can help you today.