Planning is not the same for everyone.
When leaders of smaller entities or teams within a larger organization look to engage in strategic planning, their resources are often limited to meeting facilitators with little to no strategy development expertise.
There should be a way for teams to access our planning expertise in a way that fits the scope of their planning needs.
We created the Strategy Boost™ approach to address this gap in strategic planning services.
Get the expertise and experience you need within your Budget
with a Strategy BOOST™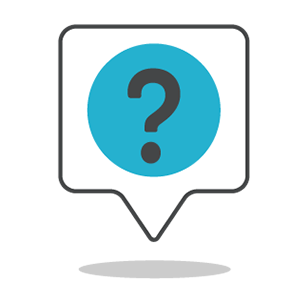 What is it?
---
Strategy Boost™ is a two-day custom-designed and expertly facilitated strategic thinking workshop to align your team's thinking and outline a near-term plan to align actions. We design, facilitate, and document so you can fully participate in the discussions. It is a perfect way to jump-start new thinking at your next planning retreat or before your next high-stakes decision.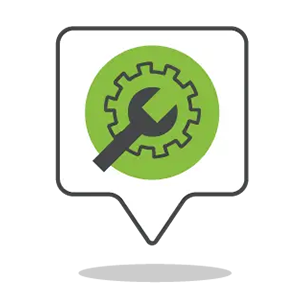 How it works?
---
A Strategy Boost™ planning engagement includes access to all the tools and techniques used for a comprehensive strategic planning engagement (Strategy Summit®) but paired down to meet your planning needs. We conduct an abbreviated strategic assessment and design a custom strategic thinking workshop to align your priorities. We facilitate the workshop and provide documentation of key agreements.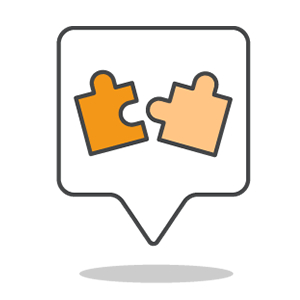 What We Deliver.
---
A Strategy Boost™ engagement includes assessing planning priorities, reviewing existing plans and performance, preparing participants' and speaker materials, and coordinating logistics. We partner with you to ensure high engagement of your participants and that your planning needs are met. Full documentation of the workshop and a post-workshop meeting are included.
The Strategy Boost™
For teams that don't need a full strategic plan but need professional assistance in aligning their priorities to a common set of goals.
For larger organizations rolling out a new strategic direction or plan. This workshop approach provides departmental leaders with the support they need to align their teams to corporate goals.
Our Strategy Boost™ workshops leverage our extensive strategy development toolkit to customize the perfect strategic thinking session.
download this process design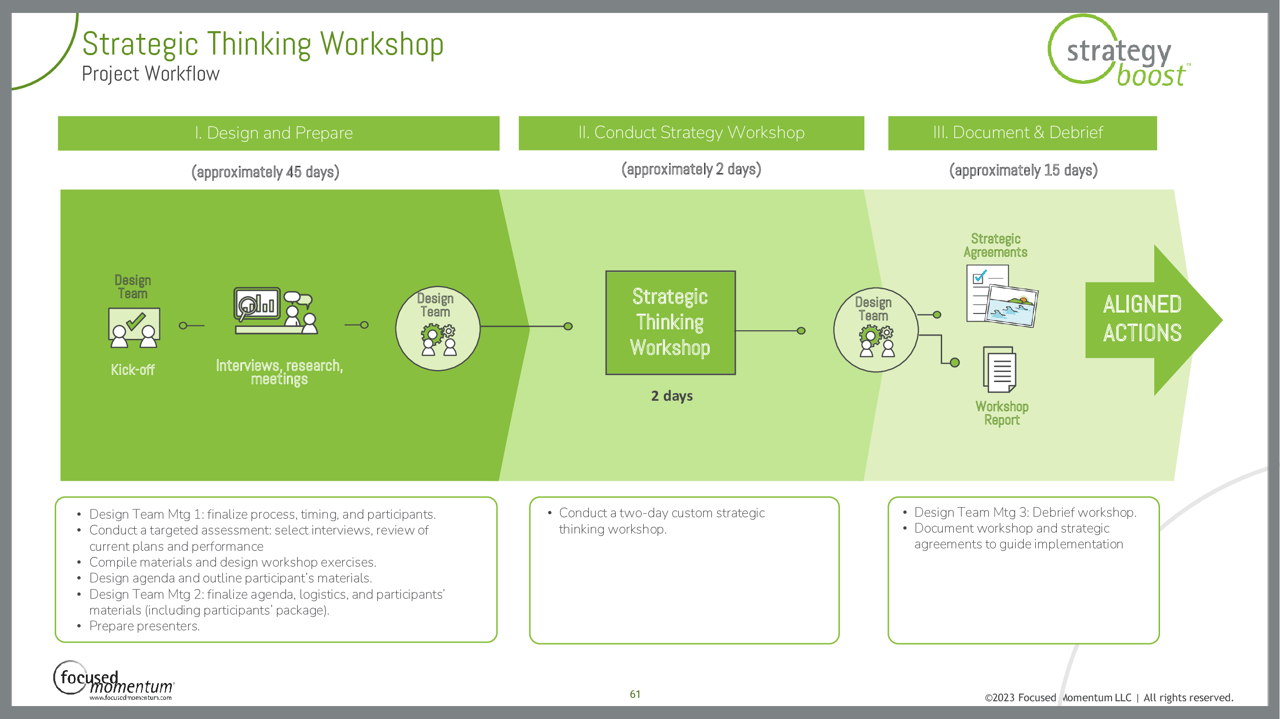 Many organizations will do short-term strategic planning; they have a plan for three years and then see where they are before defining what to focus on next. We wanted a very powerful, bold vision to guide our mission into the future, and we are indeed much stronger and more sustainable because we took the longer view.
Our founder is the classic entrepreneur; he has the strategic mind of the founder and appears to operate from the gut feel strategy guy. It is hard for him to translate his thoughts into a business plan. Working with the Focused Momentum approach, we were able to get those great ideas out of his head and build a plan that the entire team could implement.
Large Asset Management Co, Manager
Clear direction for strategic planning and a really good focus on the big picture. Great follow-through.
The Focused Momentum team facilitates conversations amongst the group without swaying the conversation. They kept the group on track and allowed us to formulate our thoughts and objectives.
Non-profit, Board President
Cecilia's facilitation was terrific. Even in the middle, when we thought we were all over the place, Cecilia saw the direction clearly and got us there together.
Non-profit Board President
I realize that our strategy session four years ago started us on the path to help us consider a different future than just going it alone. On more than one occasion, we could have been distracted, but each time, we stuck to our plan and attracted a great acquisition candidate. Now, the future for our entity and staff is very bright. That was our objective when we first met with Cecilia and her team. They were an amazing force in facilitating the first real strategic planning process for us, and this work sowed the seeds of a wonderful harvest.
NEW TO Strategic Planning?
We got you covered.
Check out What is Strategic Planning? to answer many of your questions.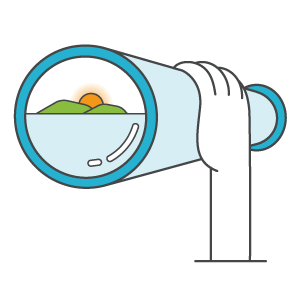 Contact us
Ready to make strategy possible?
Get in touch with us by filling out this form or clicking the button below to schedule a call.