I can't wait for this year to end.
This is the time of the year when we reach out to our friends and family. In many of these conversations, I find most are ready to close the book on 2016, yet they are not optimistic for 2017. I don't recall another time when this sentiment was so widely shared.
There is not one person I talk with that feels that 2016 was a good year. Not a good year for them personally – lots of folks are struggling. Not a good year for the country – this year's presidential campaign was a political war that has left our country terribly divided and unsure of and for the future. Not a good year for the world – the unrest across the globe is terrifying with new tragedies unfolding daily.
I want to put this year behind me. I want to start 2017 with optimism and with hope. Each time I try to push ahead myself, I hear about something new that is shocking and challenges my sense of reality. Case in point, the shooting of the Russian diplomat in the Ankara art gallery. The images of this terrorist act looked like a Hollywood movie. What is happening in the world???
So, I decided to fire myself up and make my own reality. I am going to start a F*EM Stay Focused campaign. F- you know what that stands for – EM abbreviation for THEM. No specific THEM here, just anyone or anything that shocks and disturbs me to the point that I freeze.
"F*EM" is my rally cry to push past the fear and confusion that sometimes locks me up to the point that I don't act. Don't send that email, don't make that call, don't write that article, don't make it to the gym.
When I started to feel stymied, I noticed that I was seeking out the opposite. I sought out examples of people taking personal initiative to make things better. These stories have inspired me, and as I end this year, I have reviewed again. Here are just a few that I'd like to share with you in the hopes that they too inspire you to stay focused on what you want and need to do to make 2017 fantastic.
Milana Vayntrub: actress, comedian, immigrant and now an activist.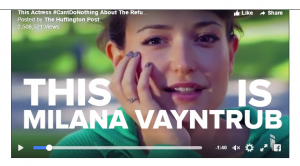 You are sure to know her; she is the beautiful dark haired young woman in the AT&T ads. Earlier this year she started a non-profit to help refugees when she stumbled into the crisis on vacation and could not just walk away.
Her story is great.
Check it out at Can't Do Nothing
Leah Remini: actress, comedian, author, producer, former Scientologist and now an activist.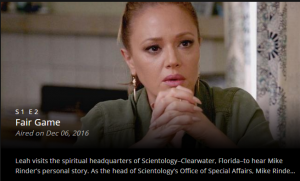 She is using her celebrity and production company to do something no one else has been able to do. She is exposing this super powerful organization in an effort to end its horribly destructive impact on its parishioners.
Check out her show on A&E
(http://www.aetv.com/shows/leah-remini-scientology-and-the-aftermath)
Nora Poggi and Insiyah Saeed and the young women they profile in their film, She Started It.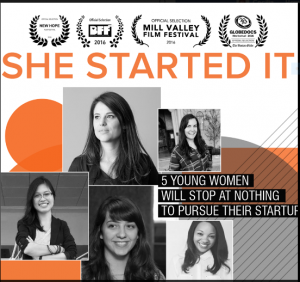 Nora Poggi is the director and producer, and Insiyah Saeed is the co-director and producer of this film.
I was invited to their Premier at the Mill Valley Film Festival this last fall. She Started It is now being screened in schools to provide role models of women entrepreneurs in the tech sector. Their goal is to encourage girls to think about a career in tech sector too.
Check out the film She Started It
(http://www.shestarteditfilm.com)
Each of these stories fills me with inspiration and pride. I too am a strong, smart, ambitious woman that wants to make the world a better place and I love that we are living in a country that encourages us to shine. We have come a long way, but there is so much more work to do. No matter what happens in the new year, I am going to follow their example. When I get shocked by some horrible, disturbing or challenging event, F*EM. I am not going to stop.
JOIN ME. Share the stories that inspire and motivate you to keep making progress against the odds. Share them with me on Facebook, LinkedIn or Twitter #f*em.
So, HAPPY NEW YEAR.
Celebrate with the ones you love and get ready to embrace and work for your brilliant new year.