Ready to take the next step?
As an entrepreneur or a small business owner, you have already proven your strategic thinking ability; you saw an opportunity and stepped in to address it. That is strategic thinking in action. But if you are like most of us, you may be struggling with what's next. As your business grows, you may find that what worked to get you to this present moment won't always deliver you to the next successful place. If you are ready to take on the next phase of your business' evolution, I have developed the perfect tool to take your thinking to the next level so you can make your next vision a reality.
Introducing the Strategic Focus Workbook for Entrepreneur's and Small Business Owners.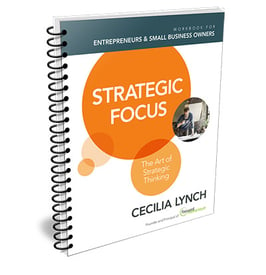 I wrote Strategic Focus: The Art of Strategic Thinking to make the strategy development accessible to everyone. The book contains tools I use in consulting with large companies and non-profits and are now available to entrepreneurs like you. The exercises presented in the book will leverage and give form to your natural strategic thinking instincts to take your business ideas the next level. In this workbook, I have created a planning tool tailored to the needs of small business owners and matched the exercises with the outline for a business plan to make it easier for you to act on your insights as soon as possible.
For years my entrepreneurial friends have asked me to recommend a business planning software that could help them do what I do for my clients during my consulting engagements. The truth is that business plan templates and software packages are basic packaging for your plan, not strategy development tools. Strategic Focus: The Art of Strategic Thinking will help you distill your thinking and intensify your focus, so that you envision more fully how you can build a plan to accelerate your growth. In this workbook, I take you through both the exercises and how to plug them into a business plan so you can use them in a business plan document or presentation to effectively engage others in your thinking and enroll them in making that plan a realty.
Is this the right tool for you?
This workbook is specifically meant to serve entrepreneurs and small business owners. If one of these definitions fit you, this is your workbook!
Entrepreneurs – solo entrepreneurs (who Daniel Pink refers to as the soloists), serial entrepreneurs, and micro-business owners struggling to build growth momentum. Each of you share a common set of assumptions: you are driven to create a commercial venture from your own creativity, drive and ambition. You may have built a company around your ideas and are struggling to effectively engage others in your vision or you may have an idea that you have yet to bring to market.
Small business owners – founders, franchisees or owners of small businesses. The federal government defines "small business" as an enterprise with less than 500 employees. My view of a small business is not size dependent. I define a small business as one in which its leader is actively working to manage the business, and has primary responsibility for setting plans for the future. By this definition you could be a single store boutique or a pretty significant sized venture with a national or even international market focus.
How can you use this workbook?
Working through the Strategic Focus exercises and the business plan outline will enhance your planning acumen and aid you greatly in preparing a presentation of your plan to:
Accelerate your team's actions towards common objectives
Create new partnerships key to your success
Secure the resources needed to invest in building capabilities to take your business through its next stage of growth.
If you are looking to expand or just strengthen what you have built so others can step into a greater role in managing your business, the Strategic Focus Exercises and Business Plan Outline will help you establish a plan and take the next steps to achieve its goals.
To purchase our Book and Workbook and to see ALL our products, click here.
To speak to someone about our Strategy Development Programs, please feel free to call us at 415.776.7449.