Strategic thinking requires a shift in mindset from the problem-solving, now-oriented practice relied upon to manage transactions to a less linear, more chaotic future-oriented process in which problem-solving structures reaches their limits.
Because making this mental and process shift is difficult when managing operations, time to take on more complex planning discussions is frequently labeled "strategic planning." Then strategic planning efforts are scheduled at specific long-range planning intervals leaving a gap in the strategic management toolkit between long-range planning cycles.
Conversely, organizations that are continually engaging in "strategic planning" discussions may never gain traction on important progressive goals because continual reevaluating can establish a belief that things are always changing.
So, how can you update your strategic thinking between long-range planning without invalidating the entire strategic plan?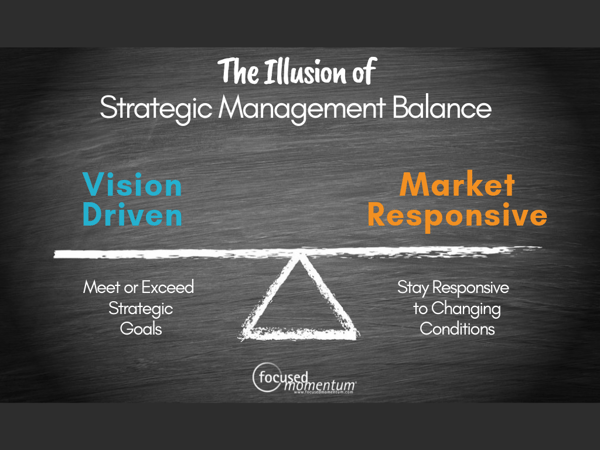 Building strategic management capabilities means working out how to balance driving performance against long-range goals with an openness to responding to changes in market conditions. Today's reality is that assumptions are shifting continually and no matter how brilliant long-term goals are, they are under constant pressure.
Maintaining clarity and confidence in your strategic goals depends on regular structured, strategic thinking forums that work in concert with other management disciplines like annual planning, budgeting, and performance reviews.
In this two-part series, I will share tools and tips to gather the insights necessary for strategic thinking and a framework to add an annual strategic thinking step to the management calendar so you can leverage these insights to enhance goal setting each year and improve your ability to strike just the right balance between being vision-driven and market responsive.
First, establish an annual Outside-In Assessment practice that leverages
identified emerging issues,
a scan of your market and competitive environment, and
a high-level evaluation of performance against current goals.
The external to internal analysis begins with seeking out data and intelligence you may not have included in your planning thus far. This exercise is designed to identify gaps in your thinking that you may want to explore more fully before the next annual planning cycle starts.


Second, schedule a strategic thinking session in the third quarter to briefly disrupt problem-solving and open the space for the exploration of new thinking months before you have to respond to this thinking with budget allocations.

During the second half of the year momentum accelerates and high performing teams narrow their focus to meet or exceed current year goals. This accelerated pace usually means that next year's planning begins with little to no time to think about how goals should evolve or how external influences could impact next year's goals. This leads to plans that reflect only incremental thinking. However, using a strategic management discipline to renew strategic thinking as the third quarter starts provides time to explore months ahead of when you need to make decisions about allocating resources. This practice will strengthen your management team's ability to balance the demands of hitting performance goals and planning to respond to changing conditions.

For organizations that have not engaged in strategic planning or don't have long-range goals, you may need to back up your strategic assessment into the end of the second quarter to complete a full strategic planning process so it can influence the next year's operational planning.

Renew and refresh your strategic thinking early in your fiscal Q3 to ensure the next year's priorities (and allocation of resources) are aligned with long-term goals and minimize disruption to productivity.