A measure of strategic management capabilities is how well a leadership team can balance responding to market conditions and staying focused on achieving objectives set out in a long-range strategic plan. Testing of this balancing act starts in the early months of implementing a new strategic direction as operational teams start digging into new objectives.
These high powered problem-solvers not only drive action within organizations; they also serve the critical role of tacticians working through the messy details to bring great strategic thinking to life. These efforts are significantly more thorough than the planning discussions which formulated the overall strategic plan, and understandably, these teams discover issues, trends, and realities discounted, overlooked, or unknown during strategy development. To guide strategy implementation successfully, these brilliant tacticians need partnership from those that authored the strategic plan to distinguish new emerging issues, which could modify your strategy, from obstacles they can work to resolve in their planning.
"Plans are Nothing; Planning is Everything" – attributed to Winston Churchill
It may seem strange to acknowledge that within the first few months of establishing a new strategic direction, issues may arise or be discovered that could mean modifying it, but today's reality is that we all exist within a highly dynamic atmosphere. Change is more "normal" than you might imagine.
Take, for example, this story of wrapping up a nine-month intensive strategic planning effort in October in 2008. We conducted long-range planning through the start of the Great Recession, yet only spent a few moments on the threat of a weakening market during the planning discussion. However, on that day, when integrating all the strategic thinking into one comprehensive plan, we felt it. Within a month, it needed to be reviewed and revised.
Because there was a deep understanding of the long-term goals and ultimate vision, the leadership team made modifications quickly and decisively. I was proud and amazed to see when we returned just one year later; this organization was back on track and surpassing their strategic goals. Their strategic planning provided much-needed context to regroup and still stay focused during a year that left many crushed.
Strategy obstacles or legitimately emerging issues?
We refer to the plans designed to achieve a long-range vision as deliberate strategies. Assumptions identified during lengthy strategic planning discussions form the bases of these strategies. They incorporate a degree of market research and analysis but they are by no means as comprehensive as the implementation plan operational teams will develop in the first phase of planning. Creating brilliant tactical plans is when teams will find a way to take advantage of opportunities and resolve issues impeding progress. Insights that are elaborations on core assumptions or in alignment with these assumptions are real Strategy Obstacles.
When planning teams find an issue that is in opposition to, significantly different, or missing from the assumptions, then the point may be indeed an Emerging Issue. The leadership team should review these potential emerging issues before moving ahead with implementation planning.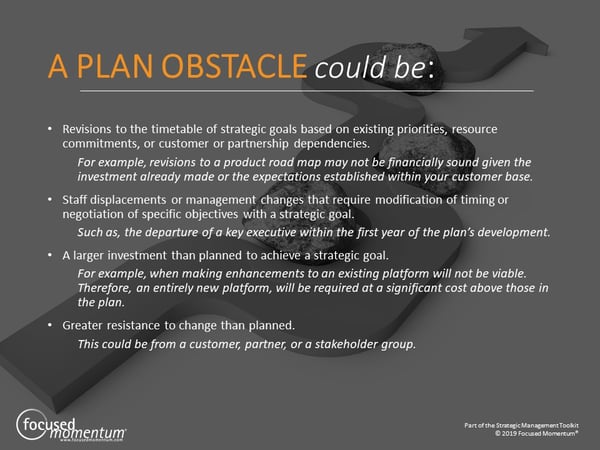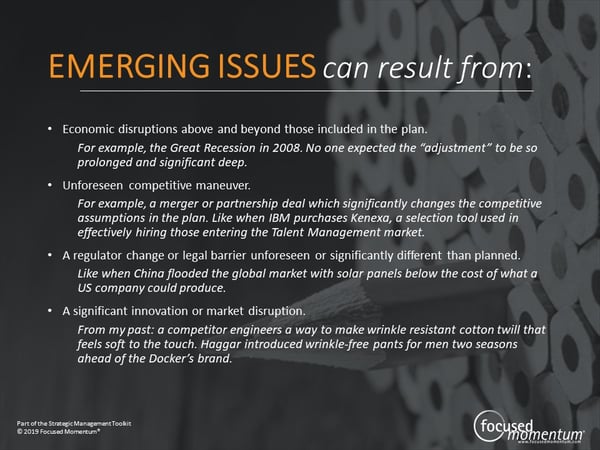 How to provide implementation teams the guidance needed to identify obstacles from emerging issues.
Deepen the understanding of your plans assumptions and underlying strategic thinking for each strategic goal. Take a minimum of hour per implementation team to ensure your strategy is well understood. These discussions should kick-off the implementation planning process, take a more informal working group tone and allow for questions from the detailed planning team. Think this step as an intensive orientation for each strategic objective or set of objectives.
Monitor implementation planning by attending team meetings frequently to ensure emerging issues are not hijacking plans or being ignored.
Bring emerging issues into planning discussions. Every organization as some level of annual planning even it if it is limited setting revenue goals. Highly successful organizations have both a regular strategic planning AND a robust annual planning process. This Strategic Management Toolkit includes a recommendation on when and how to integrate emerging issues into whatever planning approach your organization or team uses.