In the recent Harvard Business Review article, Don't Let Metrics Undermine Your Business, authors Michael Harris and Bill Tayler explore this question by taking a close look at how Wells Fargo's strategy development and plan execution may have been a factor in enabling the horrible sales practices that cost it billions and possibly permanently tarnished its brand. This examination identifies a gap between the corporate strategic goal of increasing cross-selling and a compensation program built on sales incentives that apparently left their teams to fill in how best to achieve company and personal objectives.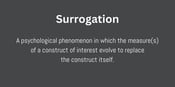 The authors call this rouge planning surrogation. I call it building a plan that is nothing more than an air sandwich; where big goals are the pretty top bun, and the current operations, competencies, and priorities are the fat bottom bun, and there is nothing in between. We see poorly fleshed out strategic thinking all too often in organizations large and small, especially when leadership teams have an underdeveloped view on how to develop strategic thinking and steward strategic management.
In their article, Harris and Tayler discuss the causes of surrogation and how to mitigate the obsession with numbers while strengthening strategic thinking needed to successfully move from strategy development to plan execution. Their primary recommendation is to bring the people responsible for implementation into the strategy development process.
To lessen the risk of surrogation, leaders should open their planning forums up to larger groups of people and allow them to gain a deeper level of understanding of the goals and rationale for goals. Through their participation in the strategy development process they not only gain a more comprehensive understanding of the what and whys of a strategic plan but, because of their implementation focus, a deeper understanding of the boundaries and constraints for how to act in alignment with long-term goals. They are offered the opportunity to see past the numbers.
When one reads this article, it makes a great deal of sense. But for many leadership teams, the prospect of opening their long-range planning efforts to more folks sounds unmanageable, chaotic, and potentially frustrating or unproductive. This is an unfounded concern if you modify your planning process to accommodate more engagement.
We know from our 20 years of conducting large group strategic planning processes, it can be highly productive, well-managed, and produce results ahead of plan. But, the way you structure your planning must change.
Here are three articles that will give you ample insight on how to modify your next planning effort to reduce the risk of surrogation that could undermine future success.
To ensure your planning process includes all four steps required to ensure you have a full strategy developed – no air sandwich, READ COMBAT EPIC STRATEGY FAILURE-COMPLETE STRATEGY DEVELOPMENT
To engage your brilliant tacticians in strategic planning, READ ARE TACTICIANS AN OBSTACLE IN STRATEGY DEVELOPMENT?
To ensure you are looking past your numbers and integrating external factors into your planning, READ CAN'T PROBLEM-SOLVE YOUR WAY TO AN EPIC STRATEGY
For more tips and tools to guide strategy development and strengthen strategic thinking in your organization, sign up to our mailing list. You'll get new articles, tools, and training announcements right in your inbox.