Marissa Mayer Didn't Kill Yahoo!, A Good Investment Did.
SAN FRANCISCO, Aug. 4, 2016 -- Focused Momentum® a leading strategy development company, Chief Strategist Cecilia Lynch examines the demise of Yahoo! and asks: Was the root cause, poor leadership or good investing?
"Developing a new direction is never a sure thing. Even the most brilliant strategists can't control all the forces at play," said Lynch who examines Yahoo's recent sale to Verizon. She discovered the course was set for Yahoo's demise long before Mayer took the helm.
"Like everyone interested in business, I watched the recent sale of Yahoo! marking the end of a very public triage of a former internet darling. With this outcome, CEO Marissa Mayer has gotten slammed for her leadership and fundamentally blamed for the death of Yahoo. As a long-time business strategist, I am not so sure we should put the blame for this at her feet," said Lynch.
"Yes, Mayer is young and, when hired, apparently inexperienced. She had never been a CEO prior to taking the reins at Yahoo. But have her leadership decisions brought Yahoo to this point? When I examined the facts, it is clear, this event was set in motion in 2005 when the co-founder, Jerry Yang brought an investment opportunity to the company," Lynch said.
In 2005, Yahoo was struggling with its expansion into Asia. A local company owned by the emerging Chinese company, Alibaba, was beating them in China. Yang assessed the situation and, given the inherent barriers for an American company in China, decided to make a $1-million investment in the competitor rather than try to continue to go head-to-head against them. This investment gave them a large stake in Alibaba (40%) and an instant presence in the Chinese market.
"Back then no one, not the CEO, Terry Semel, nor Yahoo's co-founders, nor Alibaba's CEO, Jack Ma could have foreseen that this single investment would dwarf Yahoo and bring about it dissolution," Lynch said.
As Mayer took the CEO role in June 2012, the stake in Alibaba was viewed as an asset. An asset to fuel the dramatic business transformation Mayer's turnaround strategy required. The sale of half of Yahoo's holdings in Alibaba just a few months later provided the capital needed to invest in the turnaround and to provide a return to shareholders immediately. After a number of years of rocky performance on Wall Street, this return to investors would keep them content during the time it would take to execute her plan.
"Mayer's plan depended on catching up on the mobile platform, leveraging their unique business model as a media company with the capabilities of a technology company and growing their huge user base by enticing even more to establish a daily habit for Yahoo's content. At that time Yahoo had 700 million global users recording an average of 1 billion clicks per month! With the talent available, the funds to invest and the Yahoo brand, no wonder this young, smart and extremely capable leader felt confident enough to take on this huge job. We all watched and wondered, could she do it?" she said.
By 2014 it appeared Mayer's turn around was working. Revenue declines had stopped and were stabilizing. Investments in their strategies were paying off albeit growth was slow. Stock prices were on the rebound; up over 200% since her hire. Even the Yahoo brand was strong enough to establish new partnerships and launch innovative content.
"What Mayer could not have planned for — what was far beyond her ability to control — was the market value growth of Alibaba. There was an inverse correlation between the rise in Alibaba's stock price and the time Mayer and her team had to turn Yahoo around," Lynch said.
The press began talking less about Mayer's turnaround plan and more about how the value of the Yahoo core business was dwarfed by the value of its investment position in Alibaba. No matter how well developed her strategy was, a factor completely out of her control was setting her leadership narrative. It was not a failure to execute her plan or even that her strategy was wrong that ultimately forced Yahoo into a sale, it was the growth of a single investment.
The market value of Alibaba had grown so significantly since 2004, its sale would result in a tremendous capital gain; it put Yahoo's future at risk. Not only had the value of Alibaba outpaced Yahoo, but this market dynamic began tearing the two firms apart. In 2014, when Alibaba completed its IPO, Yahoo realized a whopping $9.4 billion gain on the IPO, as well as a $16-billion-dollar tax liability. Overnight, the balance sheet looked completely different. Mayer was no longer the CEO of a media company; she was the head of an asset management firm.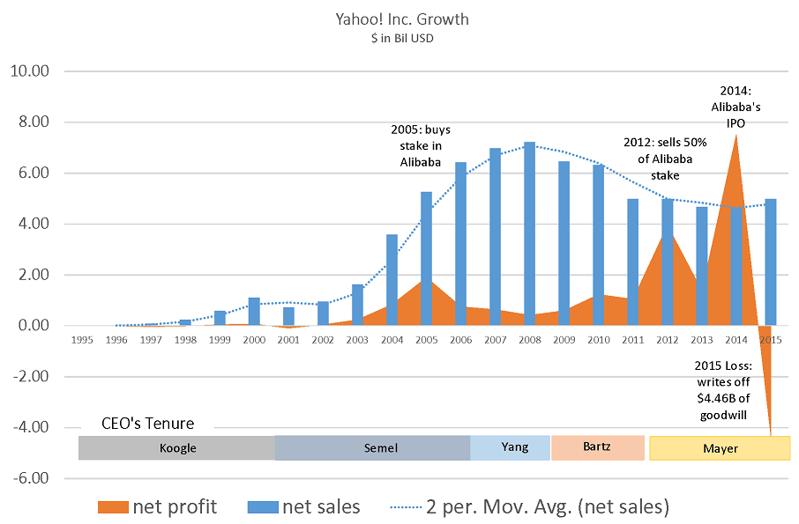 The final death keill for Yahoo came when they wrote down the value of the brand. At the end 2015, Yahoo took a $4.46 billion dollar write off of its goodwill – its brand!
"It is a truly strange story. I can't imagine a set of circumstances could ever conspire to produce a result like this again, but putting the blame on Mayer's leadership is wrongly placed. Who knows what she and her team could have done without Yang's excellent investment," Lynch said.
About the Author
Ms. Cecilia Lynch is the founder and chief strategist at Focused Momentum®, and author of Strategic Focus: The Art of Strategic Thinking a groundbreaking work that demystifies the overwhelming task of developing a strategic plan. Visit Ms. Lynch online at www.focusedmomentum.com.