This week, I was a guest on Dov Baron's Leadership and Loyalty podcast. This was truly an honor because Dov's podcast has been ranked as the #1 top podcast on leadership by Inc Magazine. It was also a delight because Dov has a unique and genuine voice in the leadership development field. He explores the questions under the challenges all leaders face in striving to become a great leader. If Dov is new to you, check out Dov's The Leadership and Loyalty Podcast.
Our interview was recorded earlier this year as I was shaping content for my upcoming book "The Hidden Strategist: Recognize and Leverage Strategic Thinkers in Your Organization." Dov's questions helped me gain a deeper understanding of how to provide specific tools and tips help in revealing the hidden strategists within organizations (or possibly in ourselves).
As a tiny preview, I wanted to share with you three questions that can be used to coax strategic thinking out into the open so it can be used to develop your next brilliant plan. Who knows, maybe these can stimulate new thinking for you as well.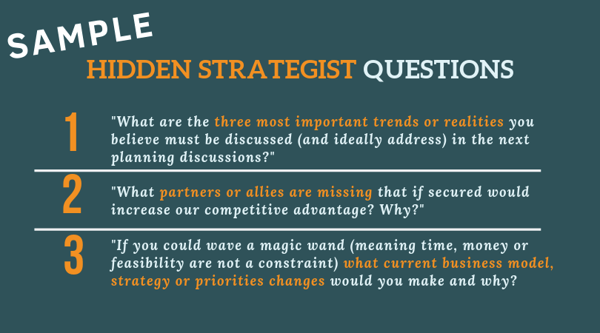 As I stated in my conversation with Dov, today many leadership teams feel ill-equipped to lead strategy development, yet they often return to the same group of senior team executives to conduct strategic planning.
The Focused Momentum® methodology depends on expanding the team of "strategists" beyond this senior leadership team to include individual contributors and departmental managers. Over the last 20 years, this approach has been honed to depend on finding and leveraging individuals all too often not engaged in strategic planning for their organizations. These internal strategic thinkers bring new perspectives to planning discussions and stimulate innovative lines of strategy development that leads to the creation of brilliant strategic plans. We call these underutilized folks the hidden strategists.
Check out this week's podcast in iTunes or Pippa
The video version is coming soon to YouTube.
Also, sign up to receive a preview of The Hidden Strategist