Unleash Your Team's Creativity on Your Long-term Goals.
In my earlier article: 3 Strategies for Business Growth - Use Your Business Plan, I make my case to renew your relationship with your business plan as a strategy to ignite business growth. The business plan has long been viewed as a startup exercise, but for entities that don't engage in regular planning, reviewing and updating your plan can stimulate exciting new thinking, propelling you to a new level of success.
In this article, I want to share how to use your plan to stimulate your team's creativity to achieve long-term goals faster. If you don't have a plan, don't worry, you can use my recommended process to start planning discussions and then workup your plan as a product of your effort.
Leverage Your Internal Strategists!
A core belief to the Focused Momentum approach is that each of you, working daily on your business, are best suited to develop strategies for its future. You know more about your market, your customers, and your offering that ANYONE else. I have always viewed our job as the facilitators of your thinking. While we are very good at listening, distilling and packaging strategic thinking, you can get started unleashing your team's creativity right away if you follow these simple steps:
First, prepare a briefing of where your business is today.
Take out your original business plan and update performance against it.
If you don't have a plan, prepare a summary of current performance. This brief summary typically this includes basic data such as trends in revenue, analysis of who your customers are (who and where they are) and what they are buying from you and at what price (especially as compared to your full or list price). You should also include a list of who you view as competitors and an analysis of how you compare to them. Finally, make sure you include a list of growth plans you have implemented to attempted in recent years and an evaluation of their success.
For smaller firms, sharing anything financial about their business is off the table. I encourage you NOT to share anything in this process that you have been uncomfortable sharing up to this point. However, you could provide insights needed for planning by using descriptors. For example profitability data can be closely guarded, yet understanding profitability is necessary for planning discussions. I recommend using a profitability scale such as: high, med or low to give your team the information they need to participate.
If you have never taken the time to compile this briefing, you will find it extremely useful and may discover many insights in just this preparation step.
Second, clarify your long-term goals.
Again, review the vision in your business plan. Is it still valid? If not, update it.
You might have revenue goals or general growth rates defined, but what else do you want to achieve? Is there an impact on the market you want to make? Is there a leadership role you want to carve out? Is this a family business that you hope to hand over to your children at some point? Do you want to sell and move on to something new?
Think about what success looks like. Define your specific, measurable goals as well as more aspirational goals that may be hard to evaluate.
Review your goals and determine which are appropriate to share with your team. If you are unclear what to share and what to keep private, use this test: Can they impact achieving it? If so, include it.
Third, schedule your planning meeting.
Schedule an extended meeting or series of meetings to engage in planning discussions. Ideally, you would not have more than ten individuals in this meeting. If you have large organization invite your executive team. If you have a smaller organization, but larger than ten, just invite those in management roles. If you have only three that is fine.
The flow of your agenda should follow the Universal Planning Model: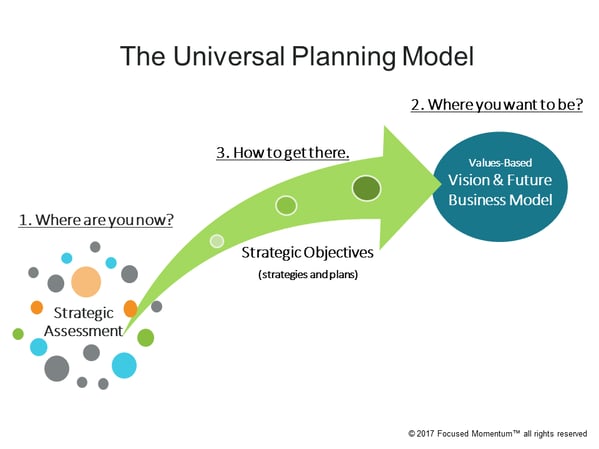 Start with your assessment and engage your team in a healthy discussion. Gather all the insights from everyone. Sometimes you will find later that something said was very insightful.
Next, review your long-range goals and again engage your team in their views of success.
Finally, turn to a planning discussion. What can you do to more towards your now shared vision?
The results of this planning discussion it is the basis for your new business plan. You can now take out your old plan, update it and continue to use it to track your team's progress. You will be surprised how quickly you achieve your goals now that you have unleashed the creativity and commitment of your team.
Want to be better prepared to lead your planning efforts? We have classes, coaching and consulting to engage you and your team in planning. Use our free business planning template to get started.