Starting at age seven I taught my son that every Thursday is Mother's Day. As a single mom, running a business and a household I needed him to learn early that I had a hard job and I needed his support. His job is to make me dinner on our weekly Mother's Day.
In the early days, there were many broken dishes and quite a few bowls of lukewarm Progresso lentil soup served to me. He learned dishes could be replaced and soup could be warmed up, but what mattered most was he was showing "the woman of the house" his appreciation and support.This investment has paid off as now if I am sick or too busy to make myself something to eat, he brings me a plate with a beautifully made sandwich, chips, and even a pickle! I feel loved, supported and appreciated. He feels empowered. I feel like I am raising a young man prepared to engage in the world he will occupy as a man: a world with many women leaders.
The last two years have awakened all sorts of women to seek leadership roles in business and public service. In 2018 476 women were running in the primaries and 117 women entering Congress. It seems clear that attitudes on female leadership are shifting. The PEW Research Center's Women and Leadership 2018 report stated that 69% of all Americans (77% for women and 57% for men) say having more women in top positions in business and government would improve the quality of life. However, even with more women stepping up to seek leadership roles, and with favorable attitudes towards the benefits of female leadership, some things are not changing.
This same, Women and Leadership 2018 report, notes that the path to leadership positions in business is harder for women than their male peers experience.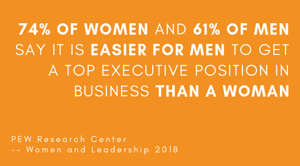 Just as when I was a young executive, the uneven expectations and gender discriminations persist and present major obstacles for women seeking leadership roles in business. 47% say that many businesses are not ready to hire women for top executive positions, yet many respondents view women are better at key areas of leadership. This paradox is what I see when engaging in strategic planning efforts.
As strategic planning consultants, our approach to strategy development depends on engaging and leveraging thinking that already exists within an organization. We seek out our client's internal strategists and often find these strategic thinkers outside the executive team. Although recognized as strong contributors, they are often overlooked when crafting strategy because they do not hold a leadership position. When we find these strategic thinkers, they are women 90% of the time. We refer to them as the Hidden Strategists.
As we celebrate International Women's Day (March 8, 2019) this week, I am "over the moon" to see more women stepping into leadership positions and establishing a new reference point for the young men and women coming of age today. It is my deep hope that with more female leadership in general, the barriers that create inequity for women to acquire leadership roles in business will fall away — ideally bringing the hidden strategists out from the shadows into roles where their talent, insight, and experience can drive great strategy and enhancing the long-term success of their organizations.
Want to leverage your internal strategists?